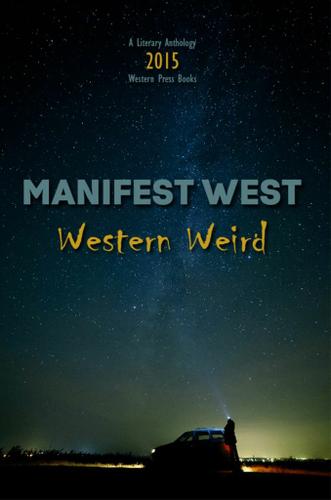 Additional Book Details
The 2015 theme for Manifest West's annual anthology is "Western Weird." The works in this collection reflect both myths and suspected truths about the part of the United States we call "the West." But this year's edition focuses entirely on the tradition of the strange. To borrow from Jeff VanderMeer's definition for speculative fiction's "New Weird," this volume creates a new parallel genre for work that subverts the traditional romanticized ideas about place, playing with clichés about the West in order to put these elements to discomfiting, rather than consoling, ends.
Topics included in this collection of poetry, fiction, and creative nonfiction range from the West's numinous fascination with E.T., Bigfoot, and ghosts and its celebration of its indigenous fauna and deadly landscapes to its uncomfortable relationships with its own marginalized peoples and its unforgiving and sometimes violent traditions. The tone of these works ranges from light—even campy—to chilling, but all allow readers to gaze straight into the many faces of what makes the West a weird place.



For the first time in the series, this volume includes solicited work as well as open submissions, including a number of established and award-winning writers and serving its mission by giving voice to brand-new writers.

 
Western Weird is the fourth volume in Western Press Books' literary anthology series, Manifest West. The press, affiliated with Western State Colorado University, annually produces one anthology focused on Western regional writing
Contributors:

Bredt Bredthauer, Bartholomew Brinkman, Amy Brunvand, George David Clark, Michael Luis Dauro, Carol V. Davis, Russell Davis, Joe DiBuduo, Michael Engelhard, Daniel Ervin, Mel Goldberg, R. S. Gwynn, Aline Kaplan, Don Kunz , Nate Liederbach, Ellaraine Lockie, Nathan Alling Long, Robert McBrearty, Teresa Milbrodt, Lance Nizami, William Notter, Marlene Olin, C. R. Resetarits, Kate Robinson, Michaela Roessner, David J. Rothman, Matt Schumacher, Renée Thompson, Wendy Videlock, Vivian Wagner, Kirby Wright
| | |
| --- | --- |
| Sold By | University Press of Colorado |
| ISBNs | 1607324415, 1607324407, 9781607324409, 9781607324416 |
| Language | English |
| Number of Pages | 177 |